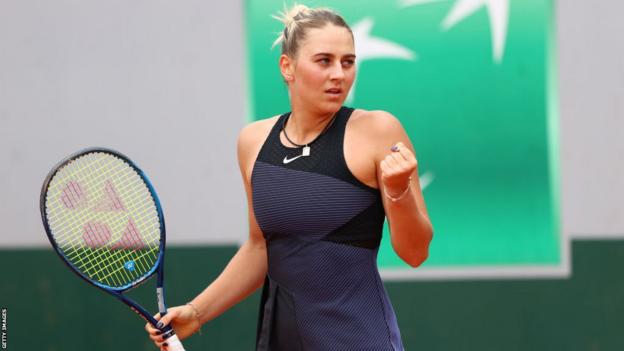 A host of international athletes have criticised International Olympic Committee president Thomas Bach's claim that Russians and Belarusians competing as neutrals in their sport "works".
The IOC has recommended Russian and Belarusian athletes are allowed to compete under a neutral flag.
Ukrainian tennis player Marta Kostyuk criticised Bach for using her win over Russian Varvara Gracheva as an example.
Compatriot Lesia Tsurenko said facing Russians is an "ethical conflict".
The IOC's recommendation only extends to individual athletes, not teams, and it is yet to make a decision on whether Russians and Belarusians can compete at the Paris 2024 Olympics.
However, Bach's claim on Tuesday that the inclusion of those athletes in international competition has already been shown to work was disputed by several athletes opposed to their readmission.
Bach identified Kostyuk's ATX Open final against Gracheva earlier this month, in which the Ukrainian refused to shake her opponent's hand after winning her first WTA title, as one such example.
"We have a ranking system in our sport. If I don't participate I will lose my ranking and my career will be over," said Kostyuk, who previously refused to shake the hand of Belarusian Victoria Azarenka at the US Open.
"A lot has been said and I wanted to say from myself, we have not been doing it publicly, but for the last year we have been fighting to exclude Russians and Belarusians from our sport," she added.
"Unfortunately we are not independent players. We are working for the WTA and ATP, and we do not have a lot of power to make changes."
Fellow tennis player Tsurenko said she had struggled each time she had to face a Russian player.
"It affected me so that I had kind of panic attacks," Tsurenko said.
"It is an ethical conflict every time we play against them."
Ukraine has threatened to boycott the Paris Games if a ban on Russian and Belarusian athletes is not upheld.
The IOC called on federations to exclude athletes from Russia and Belarus following Russia's invasion in February 2022.
However, the organisation has said it will "explore a pathway" to allow athletes from those nations to participate at next year's Games.
The United Kingdom is among 36 countries to have pledged support for an ongoing ban.
"For all of us it is a mess," said German fencer Lea Krueger.
"How can a Ukrainian compete against a Russian athlete?"
Czech Olympic ice hockey champion Dominik Hasek added: "What Bach told us was wrong.
"It will be a long war but we will win. We need to be vocal and we need to be supportive to each other."
Frederick Marfo is a sportswriter and social worker well known for his advocacy for equal chances and rights for all athletes, especially those with disabilities.