Ariarne Titmus won the 400m at the Australian swimming championships, but she couldn't take back a record that was once hers. See all the results here.
Ariarne Titmus knows many in the swimming world will judge her 400m performance at the national titles through the prism of Summer McIntosh's world record.
Titmus won the event in 4:00.49, beating Lani Pallister home by just over five seconds.
It was a comfortable win, achieved in work, on the back of a bout of illness.
But with McIntosh going four seconds faster just three weeks ago at the Canadian world championship trials to break Titmus's world record, the 22-year-old's response on the Gold Coast was always going to be under the microscope.
Titmus had been hoping to break the 4min barrier.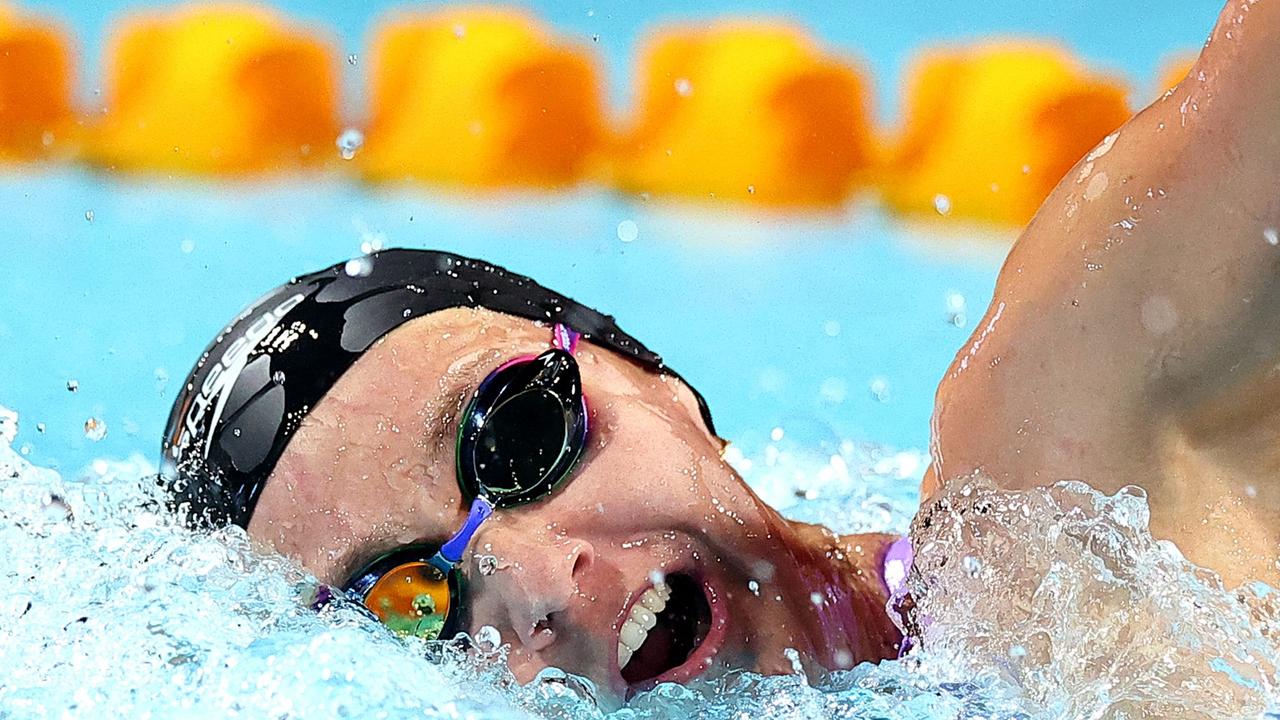 Ariarne Titmus.
But she said she was neither disappointed nor worried, about where she was two months out from world championship trials.
"I'm not going to worry if I was to come here and swim 4:03 or 4:04 because I know I've got time to get where I need to.
"I think if I was under that four-minute mark, it probably would it would have given me that extra confidence boost, but I know within myself where I'm at, so I can't look into things too much.
"I went out there and had a good crack."
Titmus knows where she wants to become trials — and it's not a 4:00.
"I know the realm I have to be swimming to be competitive to be on top of the podium at worlds," she said.
"Trials are six weeks before that, if I'm swimming four minutes at trials, that's not much time to get down to where I need to be to win.
"But I know that in eight weeks between now and trials I've got time to do a lot of really good work and have a rest as well."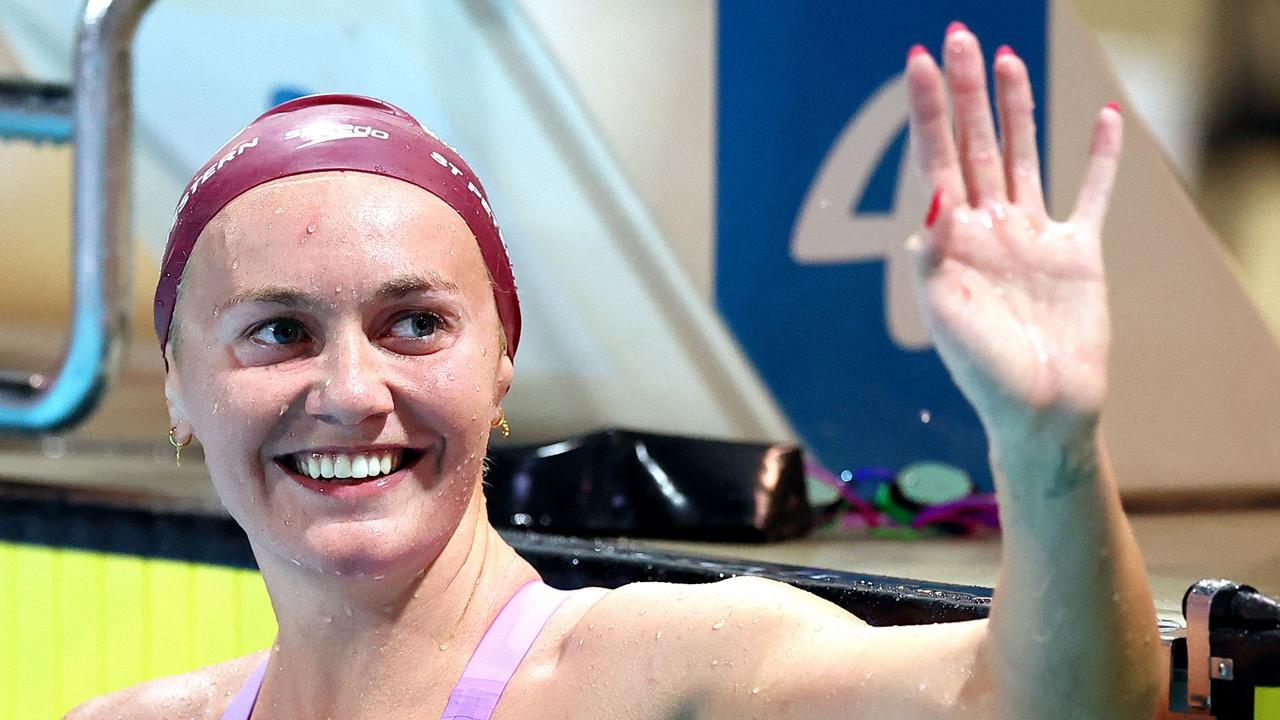 Titmus at the national championships. Picture: AFP
While Titmus is a known commodity to the rest of the world, Sam Short has put himself well and truly on the radar as well after another world-class swim to snare the 800m freestyle.
Short's 7:42.96 was the leading time in the world this year and a PB, as was his 400m on the opening night of the competition.
"I obviously had that big PB in the 400m and I've got a different mindset to everyone else, I try to tell myself not to be a coward," he said.
"I've got to push the first 400m because that's my strength, so I tried to do it with soft legs and kept going until I heard that bell (for the last 100m) and then tried to really push it – and a six-second PB, I'll take it."
Short said his performances had given him "tons of confidence" ahead of trials, where he wants to be even quicker.
Australia's Sam Short. (Photo by Oli SCARFF / AFP)
"Particularly internationally, I know those European boys will be going 7:38, if not quicker, so put me in the race and I can chop more time off that," he said.
In other events, Kaylee McKeown underlined her chops as a medley swimmer, picking up the 200m breaststroke title.
McKeown, whose sister Taylor, made the 2016 Olympic final in the event, skipped the 50m backstroke – and event just minutes later on the program – to swim the breaststroke in another sign of how strong her medley can be at the international level.
Comeback king Cameron McEvoy – at 28, the veteran of the field – claimed the 50m freestyle in 22.11, touching out Thomas Nowakowski and young gun Flynn Southam in an event missing Kyle Chalmers.
In McKeown's absence, Mollie O'Callaghan won the 50m backstroke, another sign she is likely to include the sprint backstrokes in her world championship trials program.
Bradley Woodward won the 100m backstroke, while Brianna Throssell won the 50m butterfly.
AUSSIE SWIM 'NERD' EYES HACKETT RECORD
Self-confessed "swimming nerd" Sam Short believes he can produce a 1500m master class to join his idols in rare air for the event.
Australia has a storeyed history in the longest event in the pool but has dropped off the radar at recent major international championships, something Short hopes to rectify at the world championships in Fukuoka later this year and the Paris Olympics in 2024.
Short was controversially omitted from the Tokyo Games team after missing the strict Swimming Australia qualifying time despite meeting the Olympic standard.
Australia's Samuel Short reacts after winning the final of the men's 1500m freestyle event during the Australian swimming championships on the Gold Coast. Photo: AFP
But he rebounded to win Commonwealth Games gold last year, becoming just the fifth Australian under the 14:50 mark for the 1500m.
And his performances at the Australian championships this week have given him the confidence he can reduce that further to join the likes of Kieran Perkins, Mack Horton and Grant Hackett at the top of the distance-ranking tree.
Short won the 1500m at the Gold Coast Aquatic Centre on Tuesday night, hitting the wall in 14:58.9 to scrape under the 15min barrier.
Ordinarily, it would be only a satisfactory performance.
But given it came just 24 hours after his extraordinary world-leading performance in the 400m freestyle and following a morning heat swim in the 200m, he was more than happy with the showing and what it could mean for major championships later in the year.
"I'm in a lot of work (at training) and I've never gone sub-15 untapered … so in 48 hours I've done two solid 400s, a solid 200. To go sub-15 after that, I'll take it," Short said.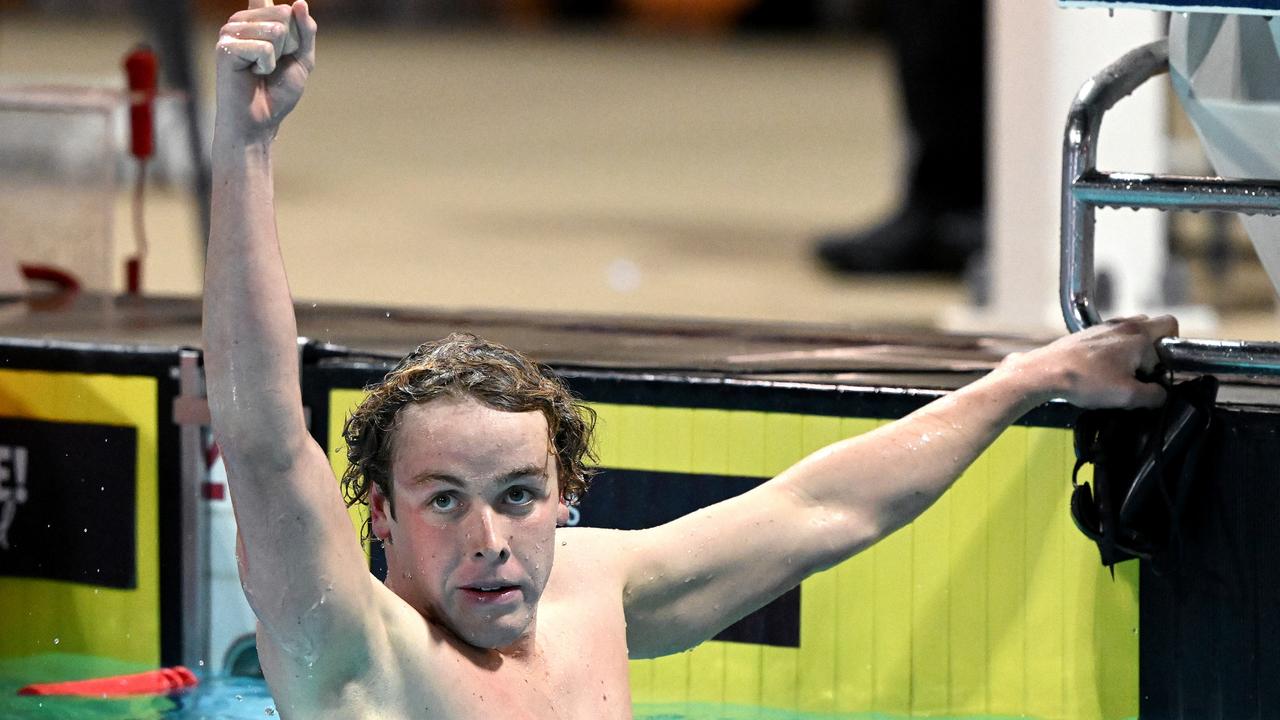 Samuel Short celebrates victory in the Men's 400m freestyle in the fastest time in the world this year. Photo: Getty Images
"I wasn't going to, just because I'm in hard work, swim it any differently.
"The first 800 was pretty solid and … obviously the last 600 hurt really bad. I was feeling it but that's about swimming in season."
Once tapered and in a race with world leaders in the event, Short believes he can edge into the low 14:40s, territory where only Perkins (14:41.66), Horton (14:39.54) and Hackett (14: 34.56) have ever been.
"I went 14:48 at Commies and I had 20 stitches in my back because I had a melanoma (recently cut out), so it's definitely on the table," he said.
"I've been watching (Australia's 1500m leaders) my whole life. I think if you asked me a statistic I probably know it, I'm the definition of a swim nerd.
"I know pretty much all the stats from all the way through the age groups, I'm constantly looking at the all-time rankings to see where I'm placed between (the legends) and that's been a big motivation of mine, they're my idols."
After his 400m effort on Monday night, Short is now looking at the possibility of a world championship program with individual swims in three events – the 400m, 800m and 1500m – but he's ready to tackle the load thanks to some major inspiration.
His 3:42.46 was not just the fastest 400m freestyle in the world this year, it ranked him 10th fastest in history over the trip and pushed Hackett out of the top 10.
"It hasn't really sunk in yet," Short said.
"I mean, he did it like 20 years ago. So hopefully I can take a bit more time off that to maybe show that we are moving in the right direction.
"But yeah, he's probably one of Australia's best athletes ever."
Source: codesports.com.au
Frederick Marfo is a sportswriter and social worker well known for his advocacy for equal chances and rights for all athletes, especially those with disabilities.