Authorities are investigating a group of swimmers accused of "aggressively" harassing a pod of dolphins off Hawaii's Big Island.
Swimming with dolphins is a popular tourist activity in Hawaii but federal law bans swimming within 50 yards (45 metres) of spinner dolphins.
Hawaii authorities said they came upon the 33 swimmers in Honaunau Bay on Sunday during a routine patrol.
Drone footage of the swimmers has also been released.
The video, shared by the department of natural resources in Hawaii, shows the swimmers moving towards the dolphins while the animals swim away.
The department in a statement said the swimmers "appear to be aggressively pursuing, corralling, and harassing the pod".
The federal law banning this activity came into effect in 2021 to protect the dolphins during the daytime and to ensure that "they shelter undisturbed in their resting habitat," said the National Oceanic and Atmospheric Administration.
Dolphins are nocturnal creatures that feed during the evening and rest and socialise during the day. Spinner dolphins get their name from their habit of leaping in the air and spinning around.
The law applies to spinner dolphins within 2 nautical miles (4 km) of the shore of the main Hawaiian Islands. The rule also applies to boats, canoes, paddleboards and drones.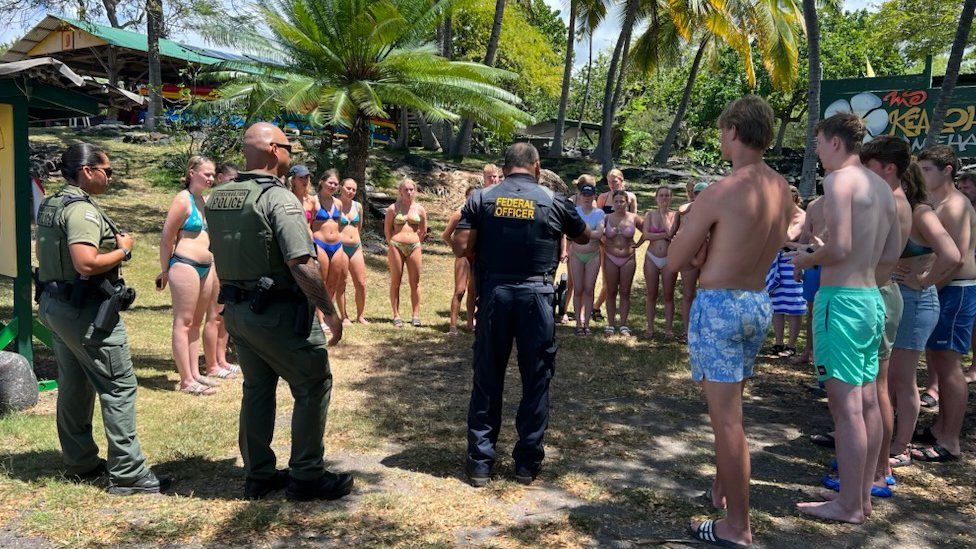 The swimmers were contacted by enforcement officers while they were in the water and alerted them to the violation of federal law.
Uniformed officers then met the swimmers on land, the department of natural resources said.
A joint federal and state investigation has been launched into the incident.
Frederick Marfo is a sportswriter and social worker well known for his advocacy for equal chances and rights for all athletes, especially those with disabilities.